Welcome to the third issue of the Carolyn Hasenfratz Design email newsletter.
Contents: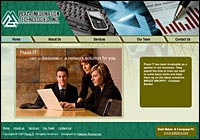 New Client Web Site Launched

In my capacity as Creative Director at Webinar Resources, I recently designed and built a web site for our client Plaza Information Technologies, Inc. of Clayton, Missouri. I'm sure they would welcome a visit to their new site - to see it go to www.plazait.com.
Rubber Stamp Winner

As many of you know, at the most recent outdoor art show I participated in, the Ferguson Artisan Fair that was held this past September, I raffled off a mounted rubber stamp from my Carolyn's Stamp Store collection together with a special mounted rubber stamp of my stamp store logo. Congratulations to the winner, Jan Turner of St. Louis. Thank you to everyone who entered. The next time I exhibit in one of these shows, I'll do another raffle and of course those on my mailing list will be notified of the upcoming show.
Rubber Stamped Pillow Box Tutorial

Whether you make or buy a gift for someone, it's fun to make a matching box to present it in. Pillow boxes like the one in the picture here work great for small gifts. I made this particular box for one of my handmade lavender soap bars. I have written a tutorial on how to make it and provide templates you can download for two sizes of pillow box that you can easily make from 8.5" x 11" card stock. Decorate them as I've shown here or use your own ideas for embellishment. Click here: Rubber Stamped Pillow Box Tutorial.




Some Favorite Recipes

Like a lot of people this week, I've been thinking about food and what I'm going to make for Thanksgiving dinner. (Actually, thinking about food is a pretty frequent occurence any time, but you know what I mean.) I updated my web page of favorite recipes for the occasion. Some of them are a bit unusual, so even if you don't make any of the recipes, you might have fun reading them.




Until next time,

Carolyn Hasenfratz



Links to former newsletter issues:


Did someone forward this e-newsletter to you? If you would like to add yourself to the list to receive future issues, please fill out the short form below. Thank you!