Welcome to the twelfth issue of the Carolyn Hasenfratz Design and Carolyn's Stamp Store email newsletter.

Contents:
Webinar Wednesdays 4th Edition
For the next installment of the Webinar Wednesday series Peter Muir, president of Bizucate, will be delving into the opportunities to be found in the post event follow up phase of event based marketing. Often after an event the organizers' attendee outreach quickly drops off as they turn their attention to other events or simply taking a few days rest after the event. However, walking away from an engaged audience means walking away from a variety of opportunities to continue the conversations that can lead to stronger customer relationships and increased business.

Register Now

To join our webinar email list, just text "webinar" (a space) and your email address to 88769. We'll keep you informed about upcoming webinars in the series.



Tidbits from Carolyn's Inbox

Here is some random information that has come my way via email:

Ceramic Arts Daily DIY Clay Tools video contest - the deadline is Friday, July 16, 2010. For more information click here.

The National Trust for Historic Preservation has launched a new web site to celebrate historic homes. Check it out here.

Do you have a St. Louis area arts event to promote or are you looking for events to attend? If so take a look at Arts Zipper.

While on vacation in May, I enjoyed walking on Lincoln Road in Miami Beach Florida. There is an art walk on Lincoln Road on the first Saturday of each month. See the South Florida Arts Center web site for more information.

Art Calendar is having a 2nd Annual Studio Makeover Contest, featuring more than $18,000 in prizes. Deadline July 31, 2010.

Soapcrafters is looking for soapmakers to be featured on their web site as a Featured Soap Maker. Click here for more information.



New Client Web Site Launched


We at my employer Webinar Resources would like to extend our congratulations to UncoverMe Naturals upon the completion of their new eCommerce site. UncoverMe Naturals sells cosmetics, soaps and personal care products that are free from preservatives, dyes and harmful chemicals. Webinar Resources was hired to bring to completion a web site which had been started by another firm. The client provided beautiful product photography which made the site a joy to work on and produced a very attractive finished result. The site is based on the WordPress platform, reflecting the trend I've seen over the last several years of clients wanting to build their web sites on platforms that contain a content management system so that they can take more control over their web site updates. We wish UncoverMe Naturals much success!
See the completed site at: www.uncovermenaturals.com/



Three Route 66 Web Sites Relaunched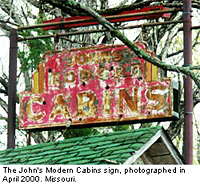 Back in 2002, members of the Route 66 Community received word that John's Modern Cabins, a landmark along Route 66 in Missouri since the 1940s, was threatened with demolition. This alarming news directly resulted in the formation of a new organization called Friends of the Mother Road, which I joined, and at least two new web sites, the Friends of the Mother Road web site and my own John's Modern Cabins News.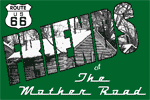 The goal of Friends of the Mother Road is to assist with preservation projects on Route 66. Together with other members of the Route 66 community, Friends of the Mother Road succeeded in persuading the owners of John's Modern Cabins not to tear them down but to leave the picturesque ruins to decay naturally for the enjoyment and education of Route 66 travelers. We have also taken on roles in other preservation projects ranging from rescuing of signs, restoring neon signs, painting and fundraising. Past and current projects include Vernelle's Motel, the Vega Motel, the Luna Cafe sign, the Meadow Gold sign, the Rock Cafe, and the Stanley Cour-Tel signs.

Some of you are getting this newsletter for the first time because you attended the Tri-State Route 66 Adventure in Quawpaw, Oklahoma and visited the Friends of the Mother Road booth were I was selling my rubber stamps. Congratulations to the winner of the drawing - Frank Jugler of Oklahoma.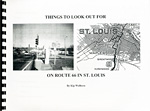 Friends of the Mother Road member Kip Welborn was pleased with the festival sales for his excellent new book, "Things to Look Out for on Route 66 in St. Louis". Look for the book to be for sale on the Friends of the Mother Road web site soon. In the meantime, you can order one by sending a check of $12.25 to Friends of the Mother Road, 3947 Russell, St. Louis, MO 63110. $10 of the price for each book will go toward preservation projects on Route 66.

Our web site disappeared for a time because domain name squatters poached the name for awhile, but we got it back and the web site is once again live and serving the Route 66 Community.

While others were organizing Friends of the Mother Road and other efforts to save the cabins, over a weekend I got fired up and made a web site called John's Modern Cabins News. After the immediate crisis with the cabins was over, I expanded the scope of the web site to encourage preservation efforts all over Route 66. To that end, the site contains links to preservation news, suggested actions to take, an opinion page, a directory of promotional resources and a free directory for historic Route 66 businesses. Owners of qualifying businesses are invited to submit information for a free listing. Over the years I've only had a few takers, but with better technology available to me now I have created an online signup form to make it more convenient to submit information for the directory. There is also a downloadable form available for those who might prefer to print it out and mail it in. If you own a historic Route 66 business, I invite you to come and get some free exposure! Please visit John's Modern Cabins News Business Directory! If you know of a business that should be listed, you are welcome to invite them to sign up.


The third Route 66 web site to be relaunched recently is the Route 66 Association of Missouri web site, for which I am the manager (my official title is Director of Internet Services). The main reason to rebuild was to incorporate a content management system, in this case I used Joomla. See the results at www.missouri66.org!


Money Saving Ideas for Budget Conscious Crafters

Crafting with rubber stamps is a lot of fun but can also be a bit expensive. Here are some money saving ideas I hope you can use!


It's a big investment to get an ink pad for every color of rubber stamp ink that you want to use. Try using watercolor paints and acrylic paints to get more colors into your stamp projects - yes you will have to adjust your techniques somewhat. For example, try sponging interesting backgrounds or stenciling bold shapes.


Many paints and dyes can be mixed - buy the primary colors and black and white only and mix the colors you want.


If you have a brayer, you might want to consider buying only re-inkers and not using stamp pads at all. Make a palette by rolling the ink out on a piece of freezer paper which has been taped down to your work surface. Small stamps can be touched to the inked freezer paper to pick up ink, then stamped. For larger stamps, pick ink up from the temporary freezer paper palette with the brayer and apply it to the stamp. When you're done stamping, you can use any ink remnants to color paper to stamp on later. Place paper down on your palette, cover everything with a piece of scrap paper, then roll with your brayer, rub with a baren, or with any handy tool you have. Lift the paper and you'll often end up very interesting backgrounds to use in future projects. You can even do some monoprinting by drawing, stamping, and experimenting with different ways of making marks in the ink.


If you go to a paper store that sells to business customers as well as the public they might let you take home an armload of swatch books. Those don't have full 8.5" x 11" sheets in them but they have pieces in them big enough for accents on projects. If a package of paper breaks open they sometimes sell the opened paper packages cheaper to get rid of them.


Before I worked from home I functioned as the office recycling coordinator (very informally) so I had first dibs on all the paper that was recycled. I obtained quite a bit of nice cardstock from folders and things that way.


There is a teachers resource and recycling center in my area - Leftovers, Etc. The general public is allowed in too. I drop off things I don't need, and pick up stuff I want for a small fee. They have things like used postage stamps, wallpaper book samples, fabric, ribbon, faux flowers, buttons, yarn, little odds and ends that people like to use in crafts like Altoid tins and scrabble tiles, VHS tape cases (I store UM stamps in these) and things like that. If you have an organization like that near you check it out.


Thrift stores often have grab bags of misc. craft and sewing supplies, like buttons, embroidery thread and broken jewelry, you can take out what you want and give away the rest.


Try carving your own rubber stamps! Here is a tutorial I wrote on how to do it - http://www.limegreennews.com/howcarv.html


You can make your own roller stamp by taking an old furniture caster wheel and super-gluing bits of rubber eraser to it that you've carved.


Enhance your designs without buying a background stamp with a piece of styrofoam meat or vegetable tray - draw into it, then ink it up and print it. You can also cut up Fun Foam into different shapes and print with those. For example, you could use your fancy paper edging scissors to cut fun foam into strips. Instant border stamp! Or trace cookie cutters onto the fun foam and cut out bold background shapes to stamp with. You can temporarily mount the fun foam pieces onto acrylic mounting blocks. Cookie cutters can be traced to make cutouts for cards and scrapbooks too.


Tools like the Clearsnap stylus handle and tips help you get double duty out of stamps you already own by making a reverse of the design and giving you more possibilities, and you can melt the surface back down and make new impressions when you're done with one design.


Custom make envelopes instead of buying. Make them out of paper, wallpaper, magazine cutouts. There are some templates for envelopes here - http://carolynsstampstore.com/catalog/templates.php. You can also make your own templates by taking apart and flattening found boxes and envelopes and tracing around them.




Thank you for reading this issue of my newsletter. I hope you enjoyed it!

Until next time,

Carolyn Hasenfratz


If you would like to add yourself to the list to receive future issues of this newsletter, please fill out the short form below. Thank you!


Previous Newsletter Issues:
Volume 1, Number 1 -

Carolyn joins Webinar Resources



Volume 1, Number 2 -

Ferguson Artisan Fair, SIUE Alumni Art Show



Volume 1, Number 3 -

New Client Web Site Launched, Rubber Stamp Winner, Rubber Stamped Pillow Box Tutorial, Some Favorite Recipes



Volume 1, Number 4 -

Upcoming Show Opening at Art St. Louis, Carolyn's "State of Your Web Site" Address



Volume 1, Number 5 -

I Have Entered the Blogosphere, Does Banner Advertising Still Work?, Featured Craft Project: Petroglyph Card



Volume 1, Number 6 -

Fall Art Walk, My Entry Into Social Media, Connections '08, Take One a Day For a Healthy Web Site, Featured Craft Project: Rubber Stamped Floral Mosaic Card



Volume 2, Number 1 -

New Route 66 Association of Missouri Blog, Discovery Light, How to Install Google Sitemaps on Your Web Site, Show Off Your Art and Craft Projects, Carolyn's Stamp Store Wholesale Pricing, Featured Craft Project: Rubber Stamped Muslin Bag



Volume 2, Number 2 -

The Green Issue, Content is Valuable: Repurpose It With Technology, What if you could choose to pay less?, Online Forms: Green, with Benefits, Featured Craft Project: Recycled Car Seat Bead Earrings



Volume 2, Number 3 -

Send a Free Personalized Father's Day eCard, Software is Knowledge: Organize Your Collection, Carolyn's Stamp Store is on Facebook and Amazon.com, New Products Added to Carolyn's Stamp Store, Featured Craft Project from Carolyn's Stamp Store: Retro Interlocking Card



Volume 2, Number 4 -

Make this Holiday Personal, Get Your Emails Delivered, Finding Shows for Exhibiting Your Art and Crafts, New Recipes Added to Melt and Pour Soap Recipe Web Page, Carolyn's Stamp Store Adds New Designs to Catalog, New Addition to Pattern Library, Featured Project from Carolyn's Stamp Store: Thank You Card



Volume 2, Number 5 -

Webinar Wednesdays 1st Edition, "Help! I'm using so many applications I'm losing track of them all!", Tidbits from Carolyn's Inbox, Create an Indoor Water Garden, Carolyn's Stamp Store Adds New Products to Catalog, Featured Project from Carolyn's Stamp Store: Convertible Necklaces