Welcome to the fourteenth issue of the Carolyn Hasenfratz Design and Carolyn's Stamp Store email newsletter.

Contents:
Send a free Halloween eCard!

Send a personalized ghoulish Halloween greeting (designed by me) to your guest and join our Webinar Resources (my employer) email newsletter. Enter your name and email address and the name and email address of your guest and we will send your Halloween greeting on your behalf.

Registration ends on October 27, 2010 and the eCards will be sent on October 29, 2010.

To register for the Halloween eCard, go here.



Design Influences Perception

On Facebook one morning I saw a photo of a friend's child taken on his first day of second grade. I remember my first day of second grade very well, or rather it's the night before that I'll never forget. My Mom heard me crying in the middle of the night and came in my room to see what was wrong. I told her I was scared to start school the next day. Mom must have been surprised, because I loved school and had done well in first grade. I told her my fear was based on the fact that we were going to learn Phonics in second grade and the book looked really hard. I had never looked inside the book - my assumption that it was going to be difficult came from seeing the cover. In contrast to our colorful and friendly-looking first grade reading book, the Phonics book we were going to use in second grade was plain institutional green with a severe grid pattern on it. When I actually got the book the next day, I opened it and was very relieved to see that I had had this subject the previous year and it was really easy - we just called it "reading" instead. What a relief that was!

What this bout of unnecessary anxiety demonstrates is how much the appearance of a product or it's packaging influences our perception of it. In the 1950's, the book "The Hidden Persuaders" by Vance Packard brought the public's attention to how marketers exploit this aspect of human nature. For example, consumers could be made to think the same detergent was either strong or mild by packaging it in an orange or blue box. By now we are well aware of these tactics, but they're still effective anyway.

Read More



Social Network Applications Cater to Deep Human Urges

Social media continues to gain in popularity. It is said that the decision businesses face about whether to add social media to their multi channel marketing now is like the decision to get a web site was ten years ago. You may have heard in the news recently that Facebook has overtaken Google as the most popular web site in the US. At the interactive marketing conference I attended recently, Connect10ns, Twitter COO Dick Costolo impressed us all with this statistic - every day Twitter adds 380,000 new users! Some corporations now employ dedicated social media staff - McDonald's has 9 workers just to handle customer relations on Twitter.

During the conference we learned about a community-centered online apparel store called Threadless. Members of the Threadless community submit t-shirt designs online which are then put to a public vote. Some of the designs are selected for printing and sold through an online store. Creators of the winning designs receive a prize of cash and store credit. Threadless was described as "being social before there was social media". I was reminded of another example of social media behavior from my own past before there were social network applications or even general access to the World Wide Web - Mail Art.

Read More



Two Friends With New Ventures

My friend Mark Reed has just published his first novel The God Hunters, and he's already working on the next installment. Here is his press release to tell you about it now:
New Book by Mark Reed Boldly Takes Sci-Fi Fans to Gay New Worlds

David Ruger is a young man who expected nothing more from his Friday night than a fun-filled evening with friends, followed by some alone time in the arms of his charming boyfriend, Wyler. After an unexpected discovery, the two of them venture into an alien universe teeming with advanced technologies, strange beings, and supernatural abilities. What was meant to be nothing more than a brief exploration for David and Wyler, quickly becomes a race against time to save David's life after a terrifying truth is then revealed.

SAINT LOUIS, MISSOURI - Mark Reed, award-winning visual artist, has taken his artistic vision to the next level in the form of a new series of science fiction books, which brings to life many of the characters and worlds seen throughout his artwork. A lifelong fan of the sci-fi genre, Mark writes a serious yet fun storyline that gives the reader an atypical experience from the usual norm of gay characters.

"I grew up reading Asimov, Herbert, Aldiss, Bradbury, and I always imagined what those stories would have been like with strong gay characters that didn't come from society's tired clichés."

The God Hunters is Mark's first published work, and it will appeal to more than just members of the GLBT community. Gamers, fans of horror, and those who enjoy supernatural mysteries will delight in reading it as well.

Available through many online bookstores including Amazon and Barnes & Noble, or directly from AuthorHouse publishing at www.authorhouse.com.

Web site: www.thegodhunters.net
Read Carolyn's Review: Book Reviews by Carolyn Hasenfratz

My friend and co-worker at Webinar Resources, JoAnna Hamilton, also has an exciting new project - she has started a business called Lucy Design Company. Lucy Design Company offers several collections of custom stationery designs for adults and children. These designs include invitations, notecards, announcements, photocards, calling cards, stickers, labels, and bag or ID tags.

Good luck Mark and JoAnna! I wish you success with your new ventures!



Upcoming Webinar: Living in the Multi-Channel Mix


Join Webinar Resources and Peter Muir on Wednesday, October 20th, 1:00 - 2:00 pm CDT for our seventh in a series of Webinar Wednesdays. Watch our webinar trailer for more information.

Peter Muir, President of Bizucate, will address how to manage your multi-channel marketing decisions. This discussion will bring together a blended approach to identify and implement specific multi-channel avenues, such as web, print, phone and more, that you can take to make your business successful.

Please tune in Wednesday, October 20th from 1:00 p.m. - 2:00 p.m. Central and 2:00 p.m - 3:00 p.m. Eastern!

REGISTER HERE.


Promote your company's presence by sharing your Multi-Channel Marketing Success Story.


Upcoming Route 66 Association of Missouri Events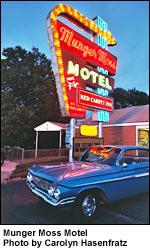 I'm a member of the Route 66 Association of Missouri, and we're having a couple of events coming up soon that I'd like to let you know about. We'd love to have you as a member, but you don't have to be one to attend our events.

On Saturday, November 6, 2010, at 6:00 pm, we will gather at the Munger Moss Motel in Lebanon, Missouri to celebrate the relighting of the newly-restored, iconic neon sign. For more information see this article.

Our next association meeting will be held on November 13, 2010 at Bob's Gasoline Alley in Cuba, Missouri. Lunch will be served at 12:00 pm with the general meeting following. For more details and if you want lunch, download a registration form here.



Featured Project from Carolyn's Stamp Store:
Card With Squares


This project was inspired by the project "Tulipia" in the book Texture Effects for Rubber Stamping
by and the Sketch Challenge sk091810 on Paper Craft Planet. Acetate layered over cardstock shapes will add depth and interest to this multi-occasion card.

Read more:
Card With Squares




Until next time,

Carolyn Hasenfratz


If you would like to add yourself to the list to receive future issues of this newsletter, please fill out the short form below. Thank you!


Previous Newsletter Issues:
Volume 1, Number 1 -

Carolyn joins Webinar Resources



Volume 1, Number 2 -

Ferguson Artisan Fair, SIUE Alumni Art Show



Volume 1, Number 3 -

New Client Web Site Launched, Rubber Stamp Winner, Rubber Stamped Pillow Box Tutorial, Some Favorite Recipes



Volume 1, Number 4 -

Upcoming Show Opening at Art St. Louis, Carolyn's "State of Your Web Site" Address



Volume 1, Number 5 -

I Have Entered the Blogosphere, Does Banner Advertising Still Work?, Featured Craft Project: Petroglyph Card



Volume 1, Number 6 -

Fall Art Walk, My Entry Into Social Media, Connections '08, Take One a Day For a Healthy Web Site, Featured Craft Project: Rubber Stamped Floral Mosaic Card



Volume 2, Number 1 -

New Route 66 Association of Missouri Blog, Discovery Light, How to Install Google Sitemaps on Your Web Site, Show Off Your Art and Craft Projects, Carolyn's Stamp Store Wholesale Pricing, Featured Craft Project: Rubber Stamped Muslin Bag



Volume 2, Number 2 -

The Green Issue, Content is Valuable: Repurpose It With Technology, What if you could choose to pay less?, Online Forms: Green, with Benefits, Featured Craft Project: Recycled Car Seat Bead Earrings



Volume 2, Number 3 -

Send a Free Personalized Father's Day eCard, Software is Knowledge: Organize Your Collection, Carolyn's Stamp Store is on Facebook and Amazon.com, New Products Added to Carolyn's Stamp Store, Featured Craft Project from Carolyn's Stamp Store: Retro Interlocking Card



Volume 2, Number 4 -

Make this Holiday Personal, Get Your Emails Delivered, Finding Shows for Exhibiting Your Art and Crafts, New Recipes Added to Melt and Pour Soap Recipe Web Page, Carolyn's Stamp Store Adds New Designs to Catalog, New Addition to Pattern Library, Featured Project from Carolyn's Stamp Store: Thank You Card



Volume 2, Number 5 -

Webinar Wednesdays 1st Edition, "Help! I'm using so many applications I'm losing track of them all!", Tidbits from Carolyn's Inbox, Create an Indoor Water Garden, Carolyn's Stamp Store Adds New Products to Catalog, Featured Project from Carolyn's Stamp Store: Convertible Necklaces



Volume 2, Number 6 -

Webinar Wednesdays 4th Edition, Tidbits from Carolyn's Inbox, New Client Web Site Launched, Three Route 66 Web Sites Relaunched, Money Saving Ideas for Budget Conscious Crafters



Volume 3, Number 1 -

Come See Me at Crestwood Court This Saturday, Who is in control of your online reputation?, Strategic Use of Social Network Applications, Route 66 Association of Missouri 21st Annual Motor Tour, The last thing I need is another hobby - so why am I starting a new one?, Featured Project from Carolyn's Stamp Store: Small Journal With Pockets