Welcome to the seventeenth issue of the Carolyn Hasenfratz Design and Carolyn's Stamp Store email newsletter, where you'll find articles and news for entrepreneurs, artists, craftspeople, and other creative people!

Contents:
QR Codes are Popping Up All Over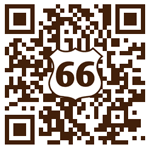 From in-store displays to magazine ads to packages of organic spinach, these funny-looking squares are becoming more and more common in our environment. A QR ("quick response") Code or Tag is a square 2D barcode that you can scan with your smartphone's camera with the help of a QR Code Reader app to immediately launch mobile links to a variety of media on your mobile phone's web browser. Said another way, QR Codes are a simple way to connect the offline world with the online world.

Read More



Carolyn's Trip to Amarillo

Last week I returned from a 10-day trip to Amarillo, Texas and back. While in Amarillo, I attended the 2011 International Route 66 Festival. This was mostly a pleasure trip and partly a business trip. I was an exhibitor at the festival, in Artists, Authors and Collectors exhibition. As usual when exhibiting my rubbers stamps, I held a drawing to win some mounted stamps - this time they were presented in a ceramic planter that I made. Congratulations to the winner - Kandace Trapp of Topeka, KS.

Read my account and see photos of the entire trip here.

At my table I was selling copies of "Things to Look Out For on Route 66 in St. Louis" by Kip Welborn, a fellow member of the Route 66 Association of Missouri and Friends of the Mother Road, my rubber stamps, my Route 66 photos, and I was also promoting the launch of a new web site called Sell66Stuff.com, a free directory designed to help businesses sell their wares on Route 66. View the presentation below to hear me talk about the new site!




If the presentation does not play in the window m, view here




Webinar Resources Announces New Web Site Designed for Businesses Marketing on Route 66
Photo by Ron Warnick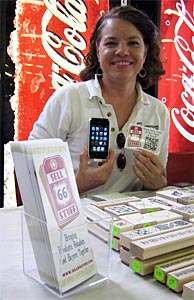 Normandy, Missouri - June 20, 2011 - Webinar Resources is proud to announce the launch of a new web site, Sell66Stuff.com. The web site is designed to help businesses market their products along historic Route 66. Listings in the directory for retailers, wholesalers and event promoters who want to sell products on Route 66 are free of charge, and can include a photo and a link back to the business web site. Paid ad space is also available on Sell66Stuff.com.

Carolyn Hasenfratz, Creative Director of Webinar Resources and a fan of Route 66 for a dozen years now, thought of the idea for Sell66Stuff.com while exhibiting Route 66 themed rubber stamps at the 2010 International Route 66 Festival that took place in June of that year in Quawpaw, Oklahoma. "Another vendor asked me if I could recommend other upcoming events with opportunities for selling Route 66-related merchandise," says Carolyn. "I knew there were many calendars available online for events on Route 66, but none that were designed specifically to make it easy for vendors to find suitable exhibition opportunities that attract Route 66 enthusiasts and those who enjoy historic highways, Americana and car culture. On the drive home, I thought about creating such an events directory and adding to it a section for retailers and a section for wholesalers so that anyone trying to sell products on Route 66 can find the right outlets for their merchandise. Many retailers on Route 66 report that one-third to one-half of their customers are from outside the United States. That creates a great opportunity for business people in our country to expose their products to a wider audience."

Sell66Stuff.com is also designed to help stores find interesting merchandise to help diversify and differentiate their offerings. "I've been told that travelers on Route 66 have complained about seeing the same merchandise in the same several stores they initially encounter, and that causes them to stop less frequently as they proceed down the road. That is very unfortunate, because Route 66 is a magnet for creative people. There are entrepreneurs, artists and craftspeople busy creating unique merchandise that could find more buyers if it was available in the right places."

Because they often contain gift shops, lodging and dining establishments are encouraged to join the directory. The inclusion of restaurants opens up opportunities to those who sell food and drink, not just special Route 66 themed products, but any food and drink that restaurants need for the tourists who stop in. Also, "Even though they don't always sell "Stuff", I'm allowing performing artists to participate, because so many of the dining and drinking establishments that are good candidates for the directory also hire live entertainment," says Carolyn.

"Route 66 means a lot of different things to different people - one of the roles Route 66 has played from its birth is to be a road of commerce. In that tradition one of the goals of Sell66Stuff.com is to make a contribution to the overall economic health of the Route 66 corridor." An ardent preservationist, Carolyn hopes that leveraging the economic potential of Route 66 will ensure that more historic sites will remain for future tourists to enjoy. "One of the things that makes me saddest is waste," Carolyn says. "If preservation projects languish because of lack of money or are never started in the first place because people aren't aware of the potential a historic site has, that is a waste and a loss for all of us."



Webinar Wednesdays - Blending Print and Mobile to Deliver Engaging Experiences


Join us on Wednesday, June 22nd, 2011, 1:00 - 2:00 pm CDT

Print is still an extremely important and valuable part of the multi-channel mix; it's a platform to deliver useful information in an efficient manner to a wide variety of audiences through a bevy of different applications. Additionally, print is also turning into a platform for engagement with other channels, making it a more interactive, measureable, and valuable medium.

In our next webinar, we are joined by Bryan Yeager, Senior Consultant at InfoTrends' Business Development Strategies and Production Workflow Solutions Consulting Services. Bryan covers a number of existing and emerging software and technology markets that enable cross-media marketing communications.

In this informative presentation, Bryan will:
Describe the types of mobile engagement mechanisms that tie print with other channels
Provide real-world examples of how engagement is being approached across different applications
Identify critical success factors for creating a strong end-to-end experience
Please tune in Wednesday, June 22nd from 1:00 p.m. - 2:00 p.m. Central and 2:00 p.m - 3:00 p.m. Eastern!

Participants will receive a complimentary InfoTrends white paper - "Realizing the Mobile Marketing Opportunity: Strategies and Technologies".

REGISTER HERE for the webinar.




Until next time,
Carolyn Hasenfratz


Previous Newsletter Issues:
Volume 1, Number 1 - Carolyn joins Webinar Resources

Volume 1, Number 2 - Ferguson Artisan Fair, SIUE Alumni Art Show

Volume 1, Number 3 - New Client Web Site Launched, Rubber Stamp Winner, Rubber Stamped Pillow Box Tutorial, Some Favorite Recipes

Volume 1, Number 4 - Upcoming Show Opening at Art St. Louis, Carolyn's "State of Your Web Site" Address

Volume 1, Number 5 - I Have Entered the Blogosphere, Does Banner Advertising Still Work?, Featured Craft Project: Petroglyph Card

Volume 1, Number 6 - Fall Art Walk, My Entry Into Social Media, Connections '08, Take One a Day For a Healthy Web Site, Featured Craft Project: Rubber Stamped Floral Mosaic Card

Volume 2, Number 1 - New Route 66 Association of Missouri Blog, Discovery Light, How to Install Google Sitemaps on Your Web Site, Show Off Your Art and Craft Projects, Carolyn's Stamp Store Wholesale Pricing, Featured Craft Project: Rubber Stamped Muslin Bag

Volume 2, Number 2 - The Green Issue, Content is Valuable: Repurpose It With Technology, What if you could choose to pay less?, Online Forms: Green, with Benefits, Featured Craft Project: Recycled Car Seat Bead Earrings

Volume 2, Number 3 - Send a Free Personalized Father's Day eCard, Software is Knowledge: Organize Your Collection, Carolyn's Stamp Store is on Facebook and Amazon.com, New Products Added to Carolyn's Stamp Store, Featured Craft Project from Carolyn's Stamp Store: Retro Interlocking Card

Volume 2, Number 4 - Make this Holiday Personal, Get Your Emails Delivered, Finding Shows for Exhibiting Your Art and Crafts, New Recipes Added to Melt and Pour Soap Recipe Web Page, Carolyn's Stamp Store Adds New Designs to Catalog, New Addition to Pattern Library, Featured Project from Carolyn's Stamp Store: Thank You Card

Volume 2, Number 5 - Webinar Wednesdays 1st Edition, "Help! I'm using so many applications I'm losing track of them all!", Tidbits from Carolyn's Inbox, Create an Indoor Water Garden, Carolyn's Stamp Store Adds New Products to Catalog, Featured Project from Carolyn's Stamp Store: Convertible Necklaces

Volume 2, Number 6 - Webinar Wednesdays 4th Edition, Tidbits from Carolyn's Inbox, New Client Web Site Launched, Three Route 66 Web Sites Relaunched, Money Saving Ideas for Budget Conscious Crafters

Volume 3, Number 1 - Come See Me at Crestwood Court This Saturday, Who is in control of your online reputation?, Strategic Use of Social Network Applications, Route 66 Association of Missouri 21st Annual Motor Tour, The last thing I need is another hobby - so why am I starting a new one?, Featured Project from Carolyn's Stamp Store: Small Journal With Pockets

Volume 3, Number 2 - Send a free Halloween eCard!, Design Influences Perception, Social Network Applications Cater to Deep Human Urges, Two Friends With New Ventures, Upcoming Webinar: Living in the Multi-Channel Mix, Upcoming Route 66 Association of Missouri Events, Featured Project from Carolyn's Stamp Store: Card With Squares

Volume 3, Number 3 - Holiday Gift Suggestions, Webinar Resources Launches Mobile Christmas Storybook, Mobile Device Apps - Make the Outdoors More Fun and Bring New Customers to Your Business, Carolyn's Stamp Store Has It's First Ever Sale!, Carolyn's Stamp Store Adds New Products to Catalog and Featured Project from Carolyn's Stamp Store: Inchies Holiday Card Holder Garland

Volume 3, Number 4 - Why Small Businesses Should Engage in Content Marketing, Haven't Taken the Social Media Plunge Yet?, What Are You Doing For Your Mobile Customers?, Tidbits from Carolyn's Inbox, Lots of Things to Do on Route 66, Webinar Wednesdays 2011 Series, Featured Project from Carolyn's Stamp Store: Making Printable Backgrounds for Stamping, Paper Crafts and Scrapbooking